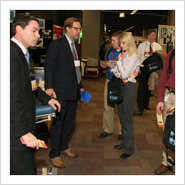 ABOUT THE MPC
MIDWEST PODIATRY CONFERENCE MISSION STATEMENT
Promote the art and science of podiatric medicine and the betterment of public health through an annual program of continuing education and other professionally oriented instruction for member podiatric physicians.


Achieve a better rapport and understanding among the health professions, and increase public awareness of podiatric medicine through public relations activities.
MIDWEST PODIATRY CONFERENCE GOVERNANCE
The Midwest Podiatry Conference is a confederation of podiatric medical associations.  Membership of the Conference consists of founding members and regular members. The state associations of Illinois, Indiana, Iowa, Michigan, Minnesota, Missouri and Wisconsin are the founding members. Regular members are the state associations of Arkansas, Kansas, Nebraska, North Dakota, Oklahoma, South Dakota and the Canadian province of Ontario. The Conference is managed by the Illinois Podiatric Medical Association.
2012 MPC EXECUTIVE COUNCIL
President: John Ruff, DPM Illinois
Vice President: Steven Frydman, DPM Wisconsin
Treasurer: Vincent Coda, DPM Indiana
Secretary: Michael Ward, DPM Iowa
Scientific Chair: John Grady, DPM Illinois
Immediate Past President: Marie Delewsky, DPM Michigan
Delegate: Martin Becker, DPM Missouri
Delegate: Joseph Schuster, DPM Minnesota
SCIENTIFIC CHAIR
John F. Grady, DPM
SURGICAL BOARD REVIEW COORDINATORS
Michael DeGere, DPM
Chad Webster, DPM
2013 AMERICAN SOCIETY OF PODIATRIC MEDICAL ASSISTANTS EXECUTIVE OFFICERS
Executive Director: Karen M. Keathley, PMAC Illinois
President: Nancy E. Diaz, PMAC New York
President Elect: Tressea Harvey, PMAC Indiana
Vice President: Jessica DeLorenzo, PMAC New York
Secretary: Heather J. Wilson, PMAC Iowa
Retiring President: Lisa L. Crouch, PMAC Washington
Scientific Chair: Tina Del Buono, PMAC California
INVITED FACULTY
2013 Faculty is currently being developed. Please check back.
MPC STAFF
Dr. Michael Hirlijac, DPM, JD – Executive Director
AnneMarie Joyce - Registrar and Exhibits Coordinator
Glenn Fiala – Director of Accounting