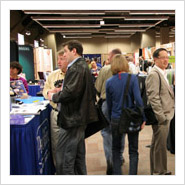 WELCOME EXHIBITORS AND SPONSORS
Please Note: the MPC office will be moving on Friday, August 23rd.  The office telephones and computer networks will also be re-located at this time.  We expect to have these re-installed and running by Monday, August 26th.  We appreciate your patience during this time.
For over 50 years the Midwest Podiatry Conference has strived to promote the art and science of podiatric medicine.  We provide DPMs, Assistants, Practice Managers and other health professionals a one-stop shop for all of their podiatric needs.  The Midwest Podiatry Conference represents a broad spectrum of podiatric professionals who specialize in surgery, sports medicine, diabetics, geriatrics, arthritis, orthopedics, pediatrics, biomechanics, wound care and, or course, general podiatric care.  Whether your goal is to build a new client base or nurture existing relationships, the Midwest Podiatry Conference is THE premier conference to exhibit at!
Need more information about exhibiting?
Register for the 2014 Midwest Podiatry Conference:
Exhibit space is sold on a first come, first serve basis so make your reservations early.  We have a new layout to our exhibit hall so be sure to reserve your location today!
Download the 2014 Exhibitor Prospectus (Please Check Back in September 2013)

Already Registered?
View the Exhibitor Service Kit (Please Check Back in October 2013)
Computer and AV Order Form (Please Check Back in October 2013)
Lead Retrieval Order Form (Please Check Back in October 2013)

Catering Order Form (Please Check Back in October 2013)

Interested in Sponsoring the Midwest Podiatry Conference?
In addition to exhibiting the MPC offers many options to highlight your company.  Sponsors benefit from increased exposure and visibility through recognition in print and web advertising both pre and post conference.  Sponsors are visited in their booth by the Midwest Podiatry Conference Executive Council and generous signage on site ensures attendees know where you are located.

View all our Sponsorship Opportunities & application here (Please Check Back in September 2013)

Advertise at the Midwest Podiatry Conference
View advertising opportunities & application here

 (Please Check Back in September 2013)

Print your 2013 Advertising Application

 

(Please Check Back in September 2013

)

"Every Day Brings New Choices" – not just for attendees, but for exhibitors as well!  We offer a range of opportunities to fit every marketing budget.  Whether you are deciding on booth selection, sponsorships or advertising, we have something for you!  Don't see what you are looking for?  Than let us customize a sponsorship for you to meet your objectives AND your budget. Please contact AnneMarie Joyce at 312-427-5810 ext. 15